A typical quartz worktop can cost anywhere between £1000 and £10000 depending on the type of quartz and size. When brand new these worktops look amazing, but with continued daily use, They can lose that fresh and sparkling appeal.
So what is the best Quartz worktop cleaner?
Choosing the right kitchen worktop cleaner for your surface is essential for looking after your worktop. Don't worry, Shower-glass.co.uk has just the right worktop cleaner to keep your quartz surface looking its best at all times!
The EB1701S Solid Surface cleaner is Manufactured by the same company (CRL Stone) that makes the Quartz worktops so I think it would only be fair they would produce the right cleaner for the product..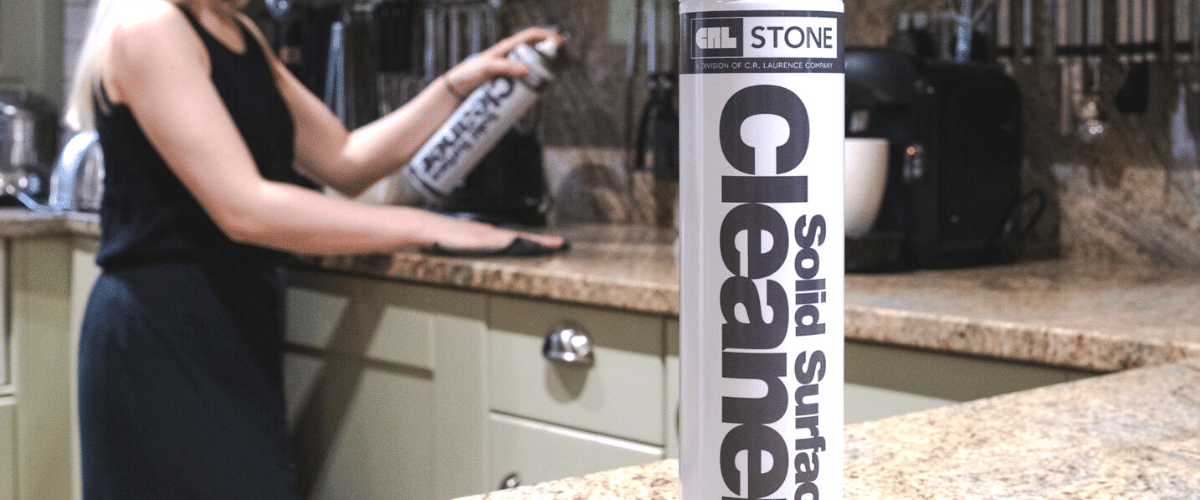 Quartz worktops
There are many characteristics that a quartz worktop offers
Quartz is one of the most resistant and durable of kitchen worktops. did you know you can cut food directly on the surface without damaging it? We still advise a good chopping board, try Nesbits or similar
Quartz is not affected by the following (if cleaned within 24hrs)
Solvents

Detergents

Bleach

Oil

Vinegar

Citrus
This is great as with some other types of kitchen counter surfaces, it can almost immediately stain or cause damage, unlike quartz.
But will all good intentions aside if you do spend lots of time in the kitchen you are bound to create a necessity to clean.
---
How can I make my quartz countertop shiny again?
If you dull down your quartz worktop we suggest using either CRL EB1701 Surface cleaner or on a daily basis use method Granite and Marble cleaner

Both are simple to apply and wipe off with a microfiber cloth or Blue roll.
Did you know you can also use a good glass cleaner such as the Sprayway s50 glass and mirror cleaner?
What should you not use on quartz countertops?
When cleaning a quartz worktop, we suggest that you do not use sealer or surface sealers, quartz does not need sealing.
Chemicals such as Acids or Ammonia concentrate, you will find the product could stain with concentrated use.
Abrasive materials will cut into the factory polished surfaces and will most probably need professional restoration to get back to the worktop's original appearance.
How to make a home made surface cleaner
If you have the energy or time you can make your own surface cleaner that you can use around the home and on worktops such as the Quartz or granite.
Here is one set of ingredients below:
10 drops of your favorite essential oil (peppermint works well)

5 drops of Mykal Sticky stuff remover or another soap

1 cup of water

2 tsp rubbing alcohol
Simply mix the above together and place into s simple spray bottle and use with a microfiber cloth.
It's great for daily use and then just the once over every now or then with Solid stone surface cleaner.
If you have a better home made cleaner we would love to hear your comments in the section below!
Happy Cleaning!
Recent Posts
If you've been using a shower curtain, you understand how hard it is to keep these curtains clean. F …

A typical quartz worktop can cost anywhere between £1000 and £10000 depending on the type of quartz …

Silicone Sealant for Shower Glass: Use what the professionals useWith plenty of brands and types of …