Making the plunge for a Bespoke Shower Screen or Panel
It could be a real nightmare for you the customer if your shower is not designed right, measured right or generic assumptions are made.
The Best Laid Plans...
Shower-glass.co.uk has unfortunately had experiences (not many) dealing with with customers OWN DIY frameless shower design attempts. Unfortunately it's nearly always after the event to correct and put right what had previously gone wrong or had been overseen.
The main issues are usually the wrong shaped or sized panel. One instance I recall a customer had briefed us after they had ordered their own glass and hinges from an online competitor and the glass did not come with cutouts to accommodate the wall to glass hinges! This was simply a miscommunication and nothing sinister..
So to negate potential issues arising, we encourage an informal chat with our clients and customers especially on DIY projects or self-fit to go through any risks that might pop up pre or post the shower glass order.
We generally discuss:
Purpose of the shower glass
Size of aperture or area
Size of Glass required
Components if required
Any other unforeseen issues (logistics etc)
After a short brief we can build a design or package that suits the needs of the required area. This would include individual panels for wet rooms etc or more complicated shower enclosures or Bathrooms.
We are happy to support your order and confidence of order by producing a CAD design of the area obviously this would need measurements from yourselves.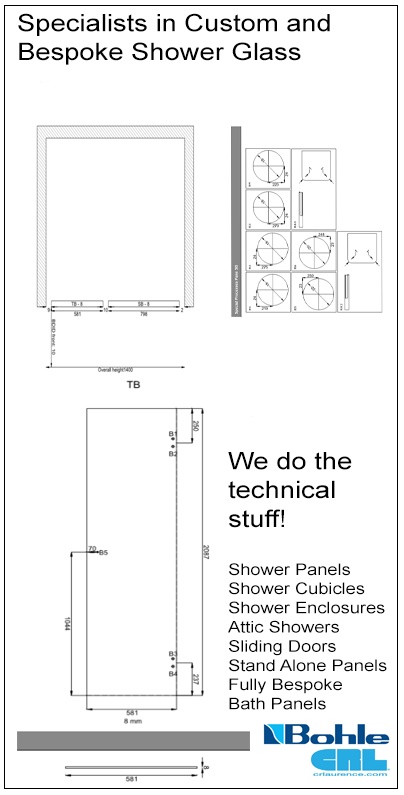 We use up to date software that is easy to use for both the customer and processing. This simply means that the drawing you see and the dimensions for that drawing are the same dimensions used at the cutting table when the glass is being cut.
It omits errors and all can be caught way before the glass is processed. The usual error is glass thickness or glass type.
We have all the glass details ready for approval as required and this can also be passed onto the installer to help with the Bespoke Glass installation.
Its not a problem and should not be to throw back and forth the design of the shower screen on the basis it can be quite costly if it was wrong.
Ultimately, we end up with a happy customer who has the bespoke shower enclosure, screen or panel that is fit for purpose and does exactly what its meant to do.
For any more information or to drop us a email,
use the contact page or dive straight in at
Recent Posts
If you've been using a shower curtain, you understand how hard it is to keep these curtains clean. F …

A typical quartz worktop can cost anywhere between £1000 and £10000 depending on the type of quartz …

Silicone Sealant for Shower Glass: Use what the professionals useWith plenty of brands and types of …