In the ideal world we would have a shower room so big, we would not need a shower door or screen.
However, if living in a town or a city generally thats not an option. So we have put together a little post about shower screen doors.
The shower door itself is usually between 500mm in width and usually a maximum of 1000mm, the larger shower doors work great if access is a difficulty i.e. a disabled user or wheelchair access is needed.
Aesthetically, in a larger bathroom a larger door size works well also.
What about heights?
Again there is a natural determination of a door size if for instance, you are looking for a door for an attic conversion. The door might only be able to go to a maximum height of 1750mm or even be shaped to suit the eaves/ roof shape
In the Older more period/ Victorian building, we have seen doors over 2500mm in size and in proportion with 800mm/ 900mm width. These types of door looks fantastic.
Weights to consider
As a rule of thumb, its worth taking a consideration of the weight of the glass door for instance, when it comes to the selection of hinge type and the mounting the shower door will be fitted to.
Weights are based on 1 sqm below
8mm = 20kgs

10mm = 25kgs

12mm = 30kgs
So for a door which is 8mm in thickness, 2000mm in height and 750mm wide that would equal 1.5sqm and 30kgs in weight.
Opening and closing?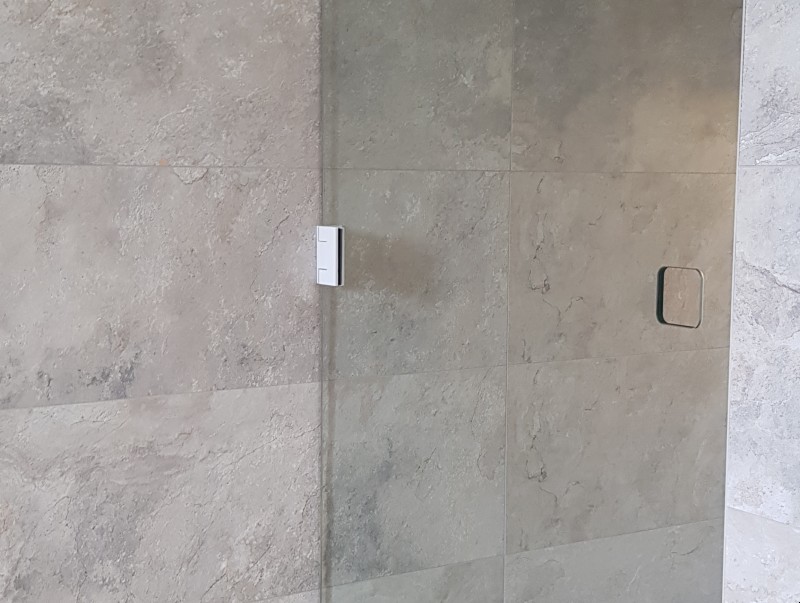 Traditionally, a door handle or door knob is used but more recently we have seen finger pulls breaking some ground. They have been in all shapes and sizes like the below diagram.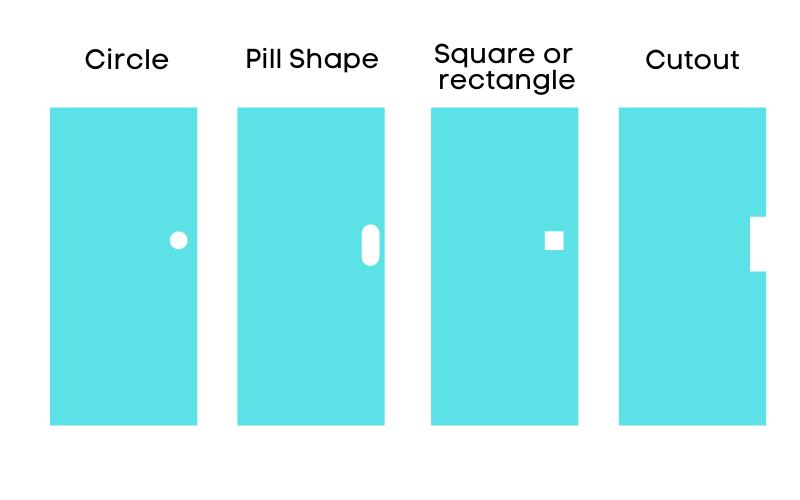 These types of finger pulls are very safe as they are normally polished using a CNC machine.. as far as costs go, a polished hole cut-out costs about 2x the amount it costs for a door handle.
As a statistic, we see approximately 1 in every 10 being cut this way. The advantages of this type of pull is there is zero maintenance to be done. The handle wont come loose, corrode or otherwise.
The disadvantage of this type of finger pull is it will let water through! So ideally for smaller showers I would recommend to not do for this type of design.
Shower Door Knobs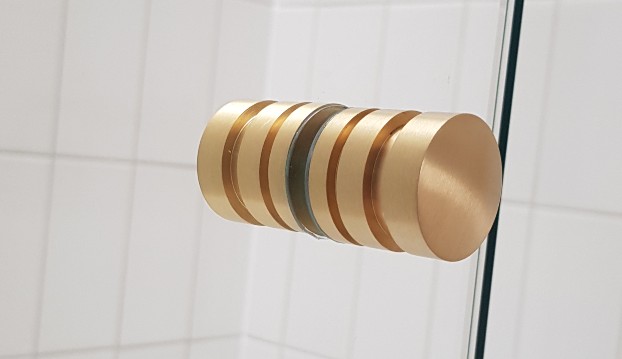 Door knobs have been such a success with frameless glass shower doors as they are just the minimal requirement to be able to open and close the shower door behind you.
There are various ranges from modern and contemporary to the more traditional and period, most are solid brass in nature and are finished in various colours including Chrome, Matte black, Brass and Nickle. Our range of door knobs can be found here
Generally they only need a drilled hole in the glass and are simple to fit.
Handle for a shower door
The door handle is a problem solver for heavier doors as its easy to grip and pull the door open. This is more evident when compared to a shower door knob. For instance, when a door knob becomes wet or soapy it can be more difficult to grip. Also for the elderly or a person with limited grip.
Door handles are still of minimalistic taste and contribute to the look of the shower as a whole none the less.
Most of the shower handles are classed as a 'D' shape handle and are normally 'back to back'. This means there is a door handle on each side of the glass.
As the shower door knobs, there is a range of shapes and colours and our range can be found here
The shower door handles generally need 2 x drilled holes for fitting and most are simple to fit and need just an allen key (comes with handle) and a Phillips screwdriver.
Towel bars for shower doors.
Towel bars can be considered a multi solution to a handle and a towel rail, the idea behind having a towel bar is the towel for drying is handy or close when stepping out of the shower. it's works even better if you can open the shower door inwards (if there is enough space to do so)
The shower bars can be fixed single sided, back to back or with a door knob assembly.
Our range of towel bars can be found here
Shower seals
Shower Seals are generally required for shower doors to stop water/ spray from escaping from the wet area of the shower. the seals are usually a snap or push onto the glass type and are easy to fit. They are translucent in look and ok to the eye.
If you have a larger shower, you can consider not using seals if the spray is generally not hitting the door in the shower enclosure.
As a trend I have seen seals now being produced in black to replicate the trend of the black framed doors/ enclosure that are available but personally I can't say if they will be a hit for the user??
Additionally to the seals there are a few different types of thresholds that can be fitted to the tile/ tray to help with any water that does bypass the shower seals.
Shower Door Costs and Prices
Frameless shower doors cost a little more than off the shelf due to the fact they are custom made to suit the size of the shower aperture or enclosure. You also have to add the hinges and handles/ seals plus any delivery/ installation
Lead times should also a consideration, as if made to measure then there is usually a processing time etc.. That's why Amazon does not offer custom doors on Amazon Prime!
For the shower door generally you will need 2 x cut-outs for the hinges and 1 x drilled hole in the glass for the handle or 2 drilled holes in the glass.
A rule of thumb is any door over 711mm will need 3 x hinges and doors go up to a maximum of 1000mm in width. If your not sure of what type of door size and tolerances you need you are always welcome to call or drop us an email.
To get an instant price, just hop over to our Shower Glass calculator here
Recent Posts
If you've been using a shower curtain, you understand how hard it is to keep these curtains clean. F …

A typical quartz worktop can cost anywhere between £1000 and £10000 depending on the type of quartz …

Silicone Sealant for Shower Glass: Use what the professionals useWith plenty of brands and types of …