5 Best Sub £25.00 Waterproof Speakers | Reviewed by the Shower Glass team.
If you have not already dived in and purchased yourself a Sonos system with custom speakers or a fully blown Control 4 Custom audio speaker set up in the bathroom, let the team from Shower-glass.co.uk show you the way to sing your heart out in the shower accompanied with a portable waterproof speaker for £25.00 or less!
Have a good look at our honest review of the speakers below and see what you can grab at a reasonable price from Amazon.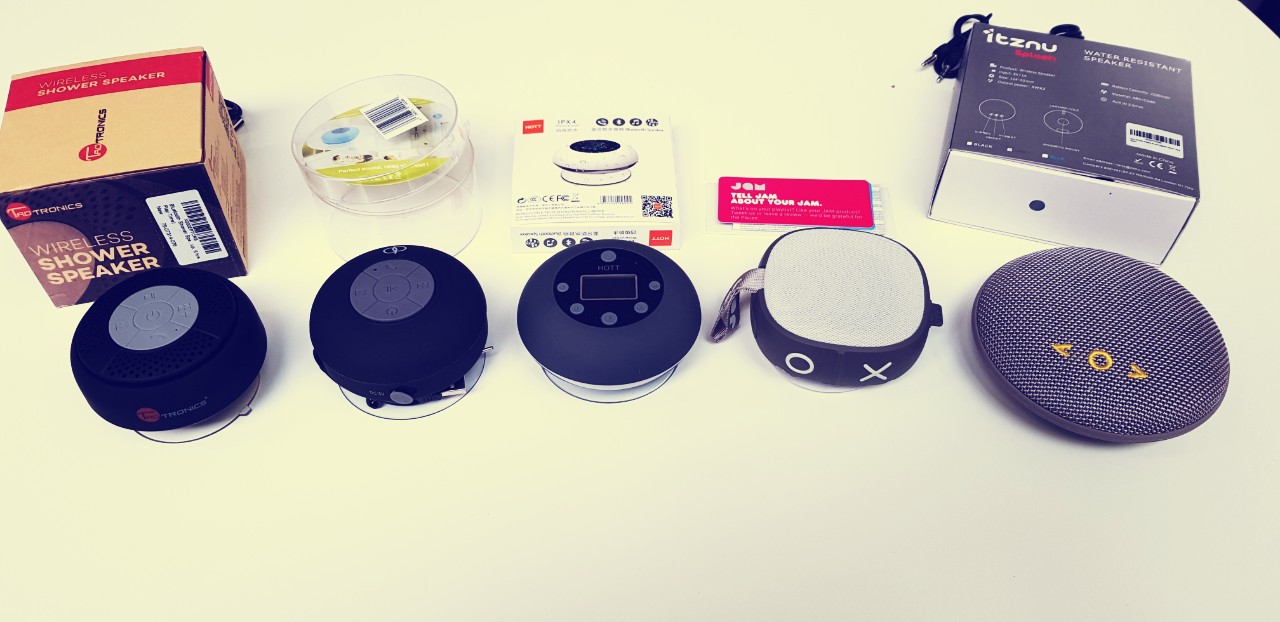 ---
Benchmark:
The main benchmark test is the price is for each speaker to be under £25.00 and have the ability to stream Bluetooth audio., obviously they have to be IP rated speakers and run on their own power source. We are also looking at how easy the speakers are to set up and play music, their sound quality, battery life and finally durability..
We are reviewing:
A&B Bluetooth Shower Speaker

Jam Hang Up Shower Bluetooth Speaker

HOTT Wireless Bluetooth Shower Speaker

IPX5 Magnetic Bluetooth Shower Speaker

TaoTronics
All are available from Amazon and are currently in stock and next day delivery. (16/04/19)
---
1) A&B Bluetooth Shower Speaker
A&B Bluetooth Shower Speaker / IPX4 Water Resistant With Built In Microphone For Hands Free Calling/Wireless Portable Speaker / 6Hr Playtime / 33ft Range (Black)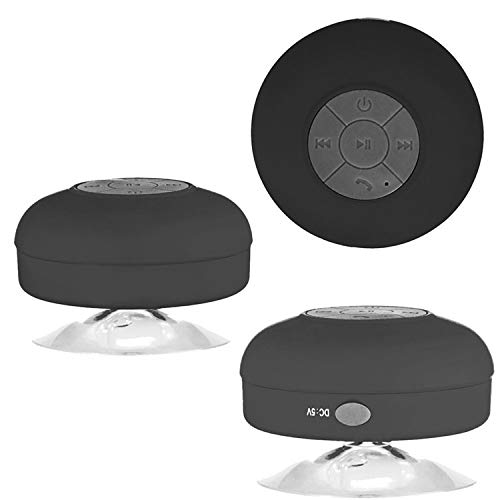 RRP as shown on Amazon £12.95
Just Find it on Bluetooth, then Play...
For the price is this the one waterproof speaker you need?
Its as plain as daylight when compared to the other four speakers in review but dont walk away from this as the speaker is actually gives out quite a nice sound.
In the office pre test it did fall off one of the glass windows, but as far as breaking there was no damage. In fairness, we did not moisten the suction cup. It streamed our Spotify playlist nicely and sounds quality was just below the Itznu. It gave a slight distortion at full blast.
Battery life was as expected and it lasted for the amount of time I needed to get through 2 playlists (4 hrs).
There is nothing fancy on this speaker visually but let that be a good thing as it sits nicely not trying to stand out in the shower, just discrete.
2) Jam Hang Up Shower Bluetooth Speaker
Jam Hang Up Shower Bluetooth Speaker, Stick Pad, 8 Hour Playtime, Waterproof, Dust Proof, Drop Proof IP67 Rating, Built In Wireless Speakerphone, Aux In Port, Integrated USB - Grey
RRP as shown on Amazon £14.99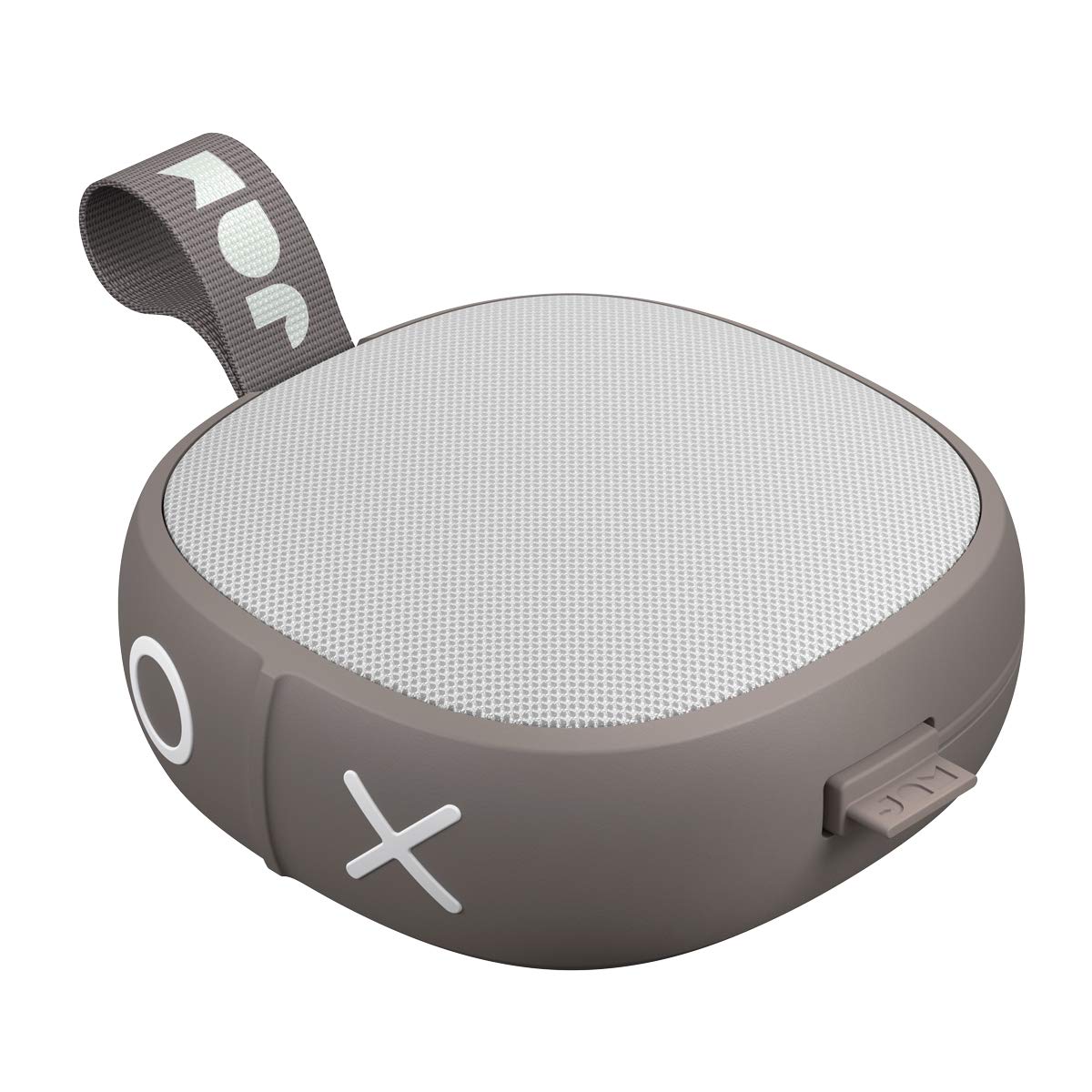 Its the look we like best, just beating the Itznu IPX5 for looks and feel, the actual design is somewhat inspiring as JAM have actually incorporated the charging wire as par of the external shell..

Pairing with a phone is a snip, just turn it on then pair using your phone or other device, it showed up straight away on both Galaxy Note 8 and a Huawai P30. Streaming Spotify is a doddle and sound quality is just a level above the other four Speaker. Conserdering its almost £10.00 less than the top priced Itznu
Sticking to the wall or most surfaces is easy with a peel-able sticky pad which can be used time and time again.
3) Hott Bluetooth Wireless speaker.
Shower Radio, HOTT Bluetooth Wireless Bathroom Speaker with Suction Cup FM Microphone Hands-Free Calling 10 Hours Music Play LCD Display SD Card Playing Waterproof for iPhone iPad Samsung Nexus HTC
RRP as shown on Amazon £23.98
This was the first of my tests ran and was setting the benchmark for the rest to follow.
There was a nifty little radio attached although I chose not to use it for this test simply as the four other speakers on review did not have the tune in facility.
Shout at me...I felt that when compared to the others it was the worse sounding speaker of the 5, it was touch and go between this and the A and B for performance. without substance, it felt rather than smooth music, it was ready to ruin my hit list.
On the plus side, it tells the time? Also it has to date not fallen off the wall with Suction cup like a leech.
It also has the ability to answer calls.
Connected perfectly
4) Itznu IPX5 Waterproof Shower Speaker
Shower Speaker IPX5 Water Resistant Portable Wireless Bluetooth Hands-Free Black, Teal or Grey Mini Travel speaker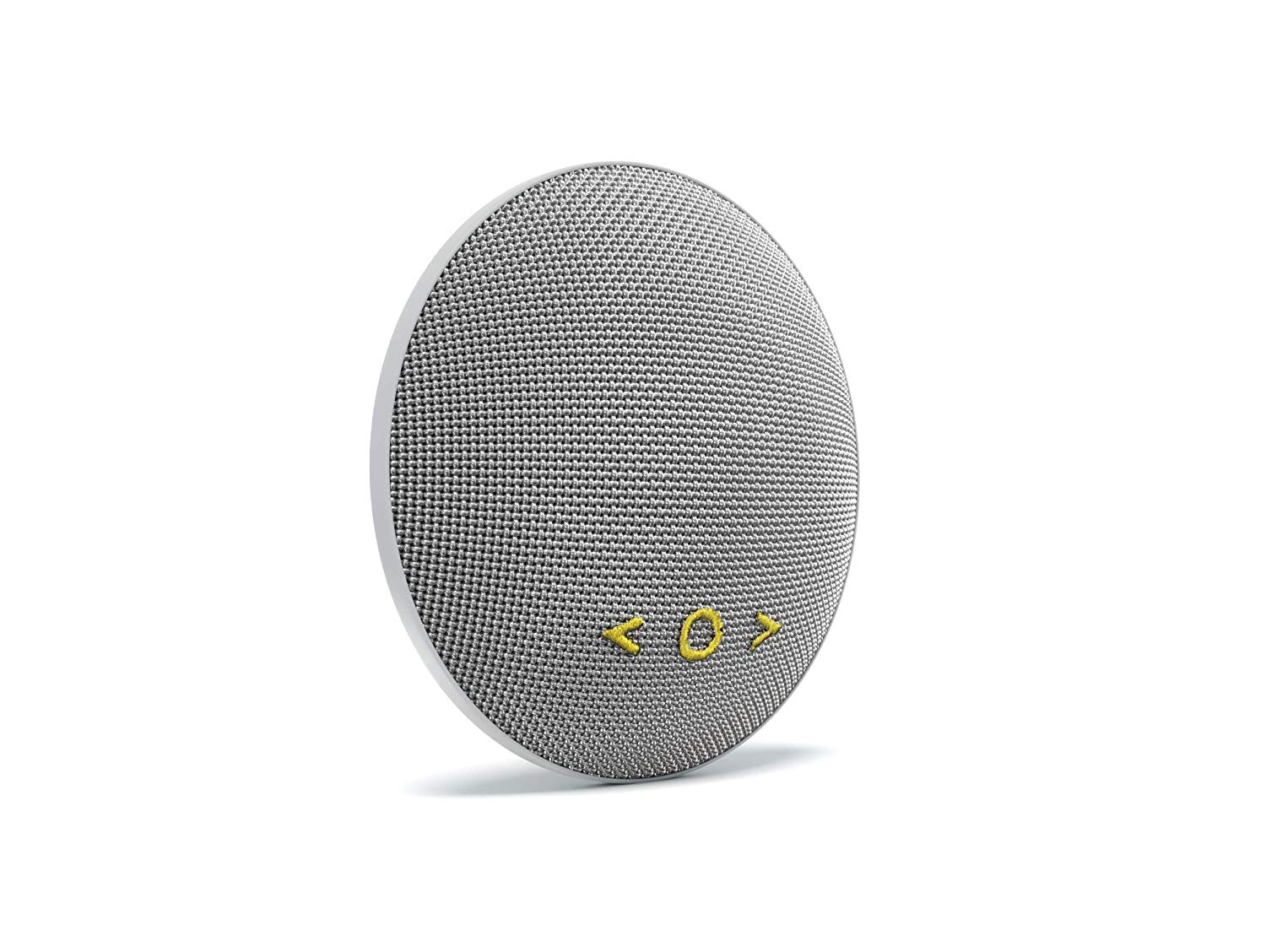 RRP as shown on Amazon £24.99 when bought with an amazon deal.
My wifes and childrens clear favourite when It comes to looks and ease of use, just turn it on and up it pops on the Bluetooth search, volume is good with clear sounds and speech.
The only downside is the speaker has to hang using the strap provided. to it needs to go either onto a hook, valve or handle for it to hang.
Battery life was as expected and it performed left running for 5 hrs.
the IPX was left on the Floor of the shower try for the duration of the test and its a tough call for first spot with this speaker
5) TaoTronics Bluetooth Shower Speaker
TaoTronics Bluetooth Shower Speaker, Water Resistant Portable Wireless Shower Speaker (Crisp Sound, Build-in Microphone for Hands-Free Calling, Solid Suction Cup, 6hrs Play Time, Control Buttons)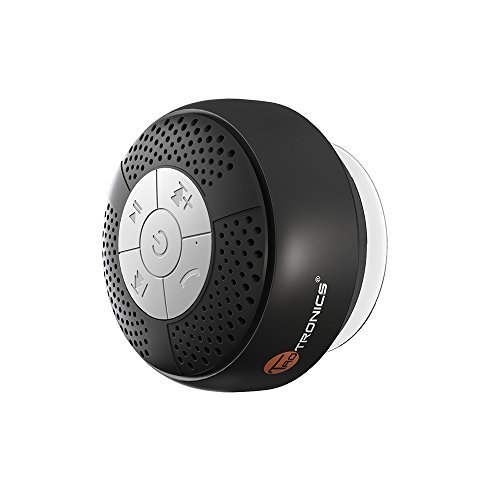 RRP as shown on Amazon £14.99
Take the Call Friend... For those who have always been practically inspired rather than apple design follower, this was the speaker for me? Being a man of the 90's this was my look 100%, both in the box and out of the box this was my craving, So how did it do?
As with all the speakers on test, this was easy to connect and already came fully charged ( must of just come off the Chinese boat). I had now placed my cards on the table as I was counting on this little baby to perform all out and win..
Unfortunately, the sound was just weak when compared to both the Itznu and the Jam, I am not saying it was a bad performer as it was £8.00 less than those but in the shower, it missed so many of the sound the other two speakers delivered.
On the plus side? It did have the functionality of the phone answer option of which I did use... twice. The reality dawned on me on the second call, do you really need this feature? life needs just a little down time and the shower has always been my sanctuary even if just for 10-15mins or so.
I drenched this little Tao in water and it ran perfectly and gave me out of the box plenty of speaker time.. I am still mixed on this one for now.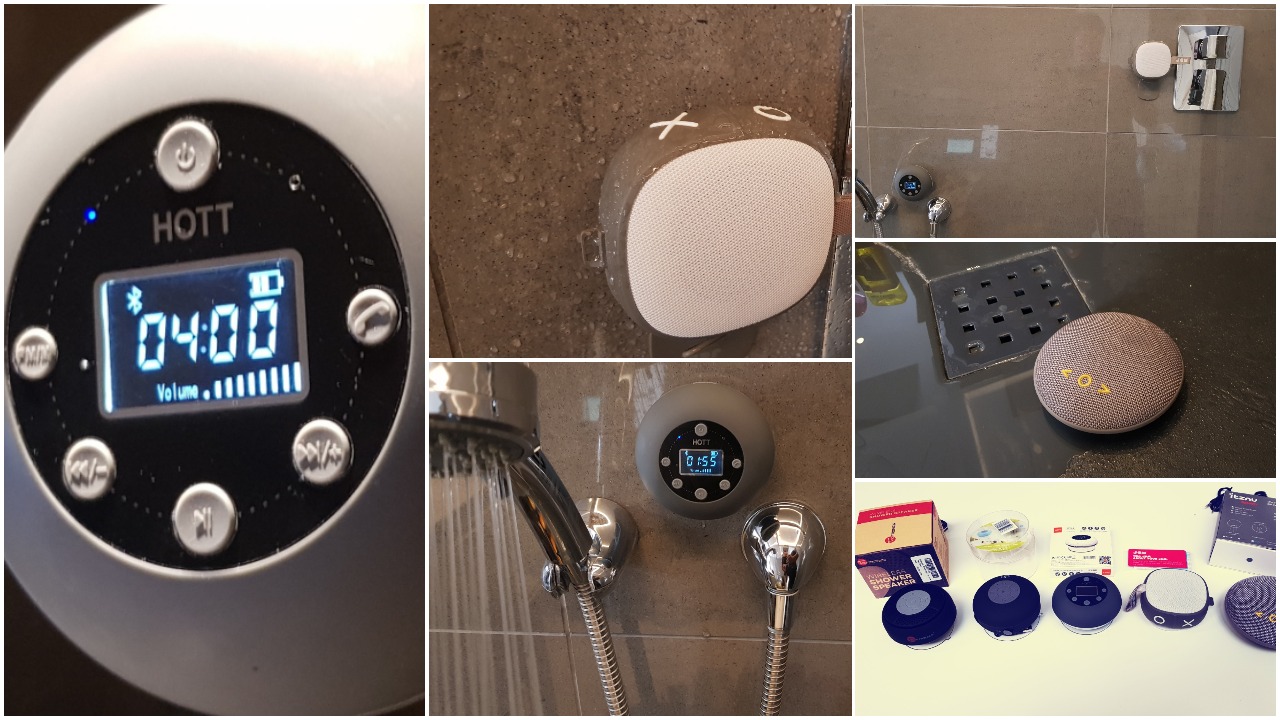 Our reviews and outcome of the test:
The winner was the Jam Hang Up Shower Bluetooth Speaker, with a great sound, look and an even better price it was our clear winner
Jam Hang Up Shower Bluetooth Speaker £14.99
Itznu Magnetic Bluetooth Shower Speaker £24.99
A&B Bluetooth Shower Speaker £12.95
TaoTronics Wireless Waterproof Buetooth speaker £23.99
HOTT Wireless Bluetooth Shower Speaker £23.98
Recent Posts
If you've been using a shower curtain, you understand how hard it is to keep these curtains clean. F …

A typical quartz worktop can cost anywhere between £1000 and £10000 depending on the type of quartz …

Silicone Sealant for Shower Glass: Use what the professionals useWith plenty of brands and types of …